I recently shared with a facebook group, the prayer beads the children made for Ayyam-i-Ha and gave to each Baha'i household. They were made out of glass beads from Micheals and placed in a small bag with "Allah-u-Abha" on the bag. Paper also makes lovely bead and for those of you who love to recycle this is a fun and easy craft.
Crafts don't have to be expensive and paper is one of my favorite mediums to work with because it helps me to recycle and it is easy on my wallet. To make these paper beads just grab the templates below, some old scraps of paper like magazines, wrapping paper, etc. or even buy some special paper. In no time at all, you will have tons of beads
Age : Suitable for Kindergarten age with help from an adult.
Time: 2 minutes each…gets faster and easier the more you do.
Supplies: Paper, Templates below, scissors, glue, optional paint glitter, and varnish
Here are the easy steps to make as many paper beads as your hearts desire:
First grab the template below: More templates can be found on my Etsy store soon.
Print the template directly onto your paper or print the template onto plain paper and use as a template to cut out the beads.
Using a wooden skewer or a straw to wrap the paper starting at the widest side and keep the patterned side of the paper down. Tip: For younger children, a straw allows the stringing of the bead process to be easier. You will need to glue the edge of the paper to the straw so it does not slip off . Once the bead is rolled up and glued, you will cut the straw …a piece of the straw will remain in the bead.
Roll the paper all the way up to the narrow end and add a bit of glue to hold it in place.
Varnish with clear nail polish, Mod Podge or any other clear varnish you have access to.
I dipped mine in gold glitter and paint before I varnished.
This template below is a sample of the many shapes for paper beads. The larger pieces are easier for little kids. The small beads might be better for adults to complete.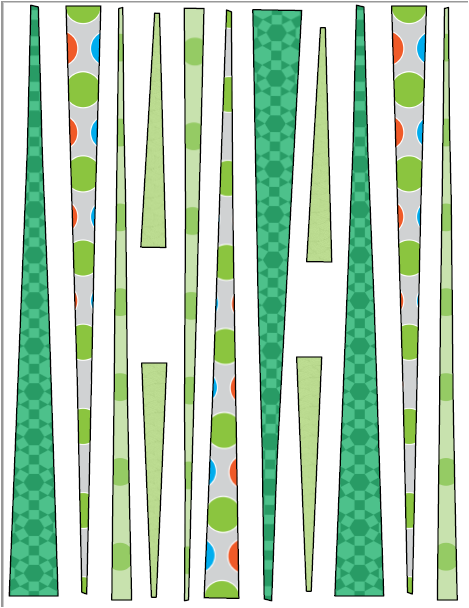 Have fun
Carolyn
Just us crafting