When I am stressed or need to relax, I find that cutting paper is so soothing. The supplies are easy to find and cheap: an X-acto knife and paper with a printed design and a cutting board.
This paper craft is suited for teens and adults and can take 10 minutes to 30 minutes to complete.
I first started to notice paper-cutting when searching crafts like Origami and Kirigami: beautiful intricate paper-cuttings were showing up in my feed. So, while I admired from afar, I did not think I could do such detailed work.To make a long story short, I eventually tried it out, loved it and have been cutting and designing paper cutouts ever since.
The photo below is one of my designs that was inspired by the Ridvan Garden.This was made to go in a shadow box and hang on the wall. This design has lots of small leaves that have to be cut out and it is not an easy design to start with.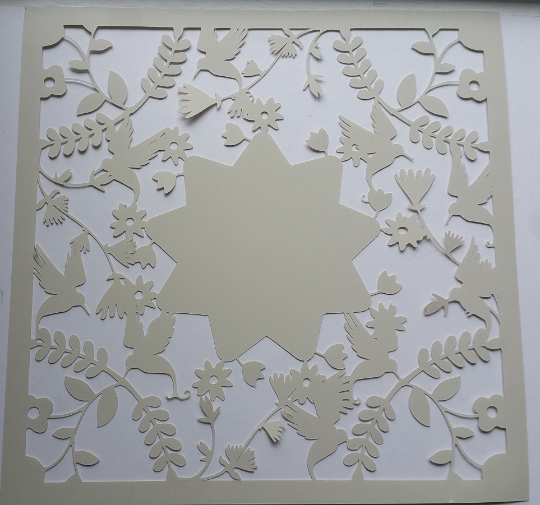 What to look for when choosing a design to cut:
When looking for a beginner level design AKA an easy craft, you want a design with large images. Straighter lines are the best for beginners but not always possible so larger gentle curves are next best option. Open space between the design elements also help.
Here is what you need to get started:
A printed design : I have two included, one is simple, one a little more detailed. Best to print the design on 8.5 by 11 cardstock. You can print on any colour cardstock or regular paper. If printing on regular paper, be extra careful and it will tear easier.
A printer or send file to a print service near you.
A sharp X-acto knife: you may have to change blades
A cutting board: A self healing mat is great but even a wooden bread board can work, just be careful the knife point does not snag on the wood fibre.
Beginners design:
The photo below looks like a pretty easy design to cut out and it can be made even simplier for beginners.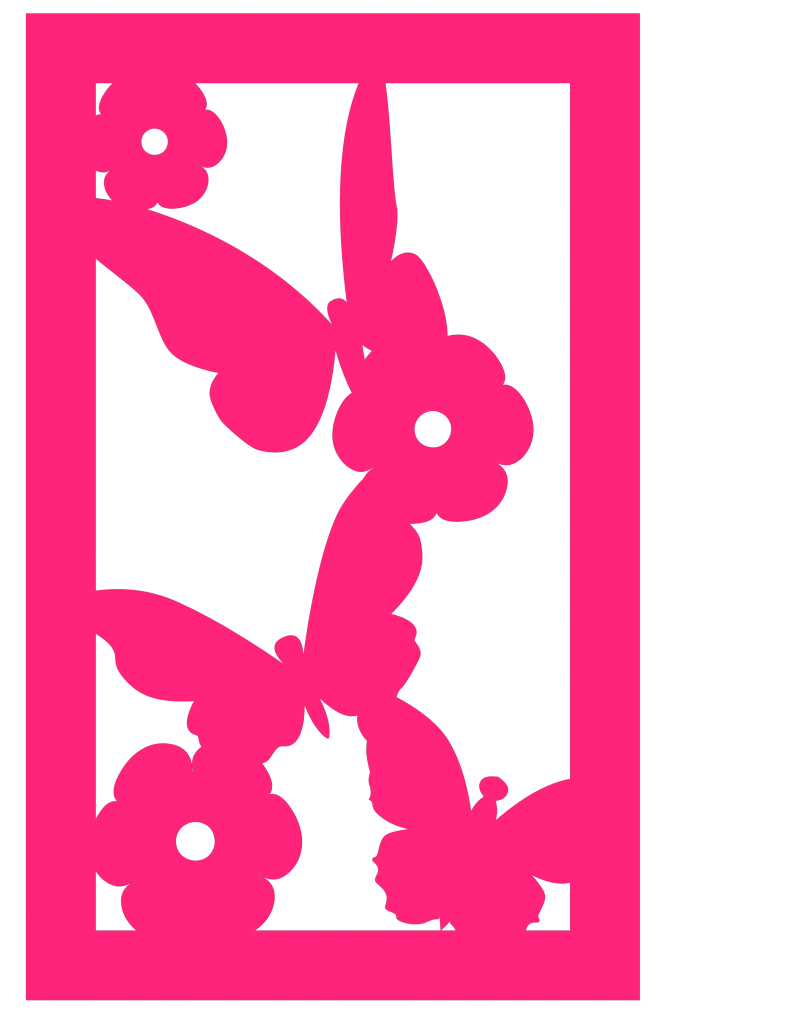 When you are looking for a super easy first design here are some of the things to note:
Note that the butterfly wings above are jagged curves, I would look for a smoother curves in a design.
The inner circles of the flowers can be problematic to cut, so if you do print this image out, you can choose to not cut this part of the design. The printed image is the back of the finished product so the lines will not show. If you want to have the lines show that is also ok.
Notice that the curve of the butterfly wings are smoother . This is now a simple paper cutout and if printed smaller can still be cut by a beginner.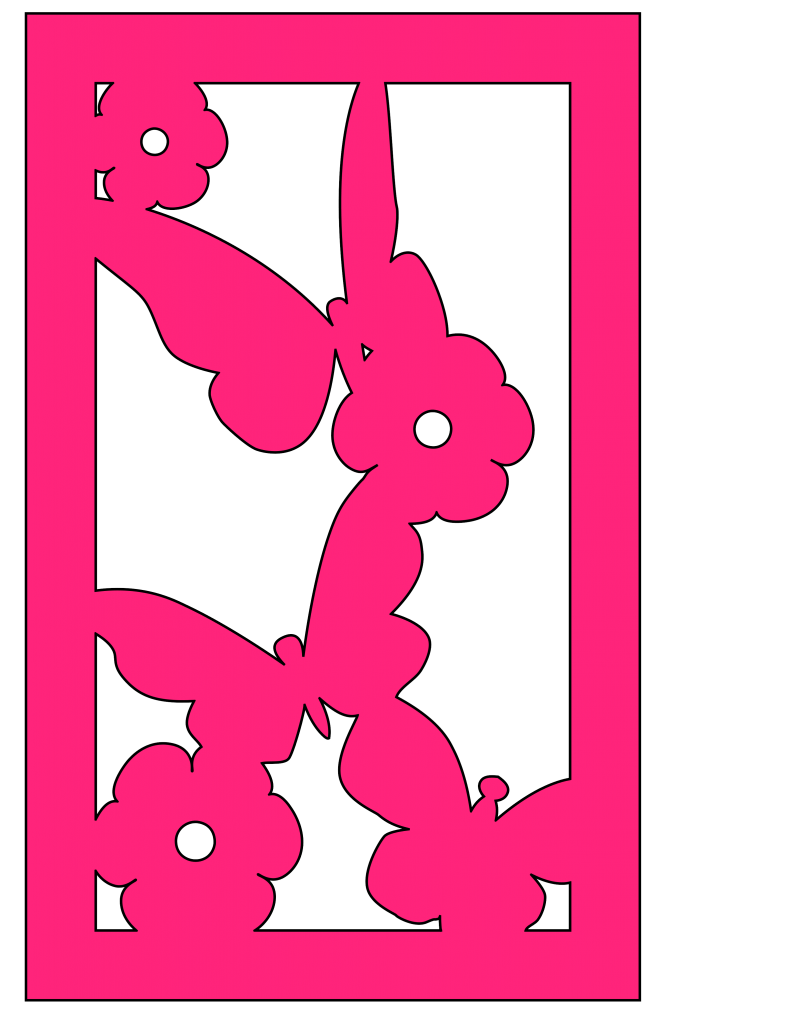 This is an even easier image to cut. The file included is with the circles in the flowers: do not cut the circles or other small areas out and you will achieve the image below.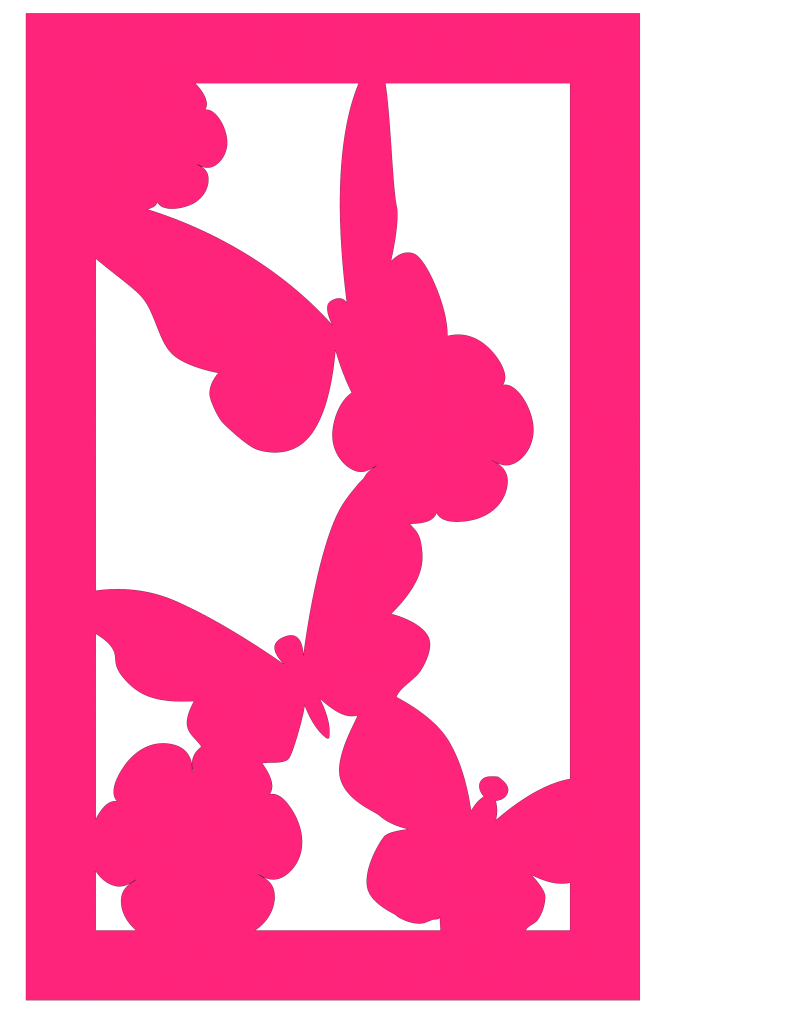 To have a super easy cutting experience:
Cut the main image out with a scissors or X-Act knife and metal ruler: the outer edge of the big rectangle in this case.
Use a sharp blade and cutting mat.
Don't cut the inner circles of the flowers and the small areas. You will loose details but this can be addressed by adding embellishments like gem stickers to the center of the flowers to help bring some detail back.
When cutting curves, turn the paper as you cut: this will help with a smoother cut.
How to Start Cutting:
I start cutting from a corner. You can start anywhere you like. I slowly work my way up to the top of the design. Once cut I turn the design over so that any black printed lines do not show. You can have the black lines showing if you like.
A simple design to cut

sart by cutting out small sections

cut deep curves last
TIP: For circles or curved areas, don't try to cut the edge of the circle/ curve , instead make straight cut lines from edge to edge inside the circle this makes it easier to cut out and a bit cleaner finish.
I printed my design small and it took about 10 minutes to cut. The white cardstock is softer than the pink and you can see the difference in how it cuts.
close up of white cardstock

Larger image on pink cardstock

Paper cutout on a card with decorations on flowers
I choose the smaller size as I thought it would be great for the front of a card. If this is your first time cutting, I would print larger size and practice. Also note that you cut the printed design and this is the back, if your design has letters you need to mirror the image for printing.
Here are the two files one is exactly the same as the butterfly and flower above and one is a simpler version of 3 butterflies and 3 flowers. I hope that you share your finished craft with me!
Carolyn