WELCOME TO LESSON 1 on the Virtue of Cleanliness
The aim of this lesson is for the children to learn that cleanliness is spiritual, physical (body and actions), and mental (their thoughts). The content is from the online platform with is free for anyone to sign up. Lots of crafts and resources to download
CLEAN BODY
How do we keep clean?
If we are camping and did not have a bath or shower?
What can we use instead of a sink?
How do we wash our hands thoroughly?
CLEAN MIND
What does this mean?
Can we use water to clean our minds?
What are "not good thoughts"?
It is normal to have these thoughts, but then WE choose how to act. We recognize the thought or feeling, we STOP and thank God for sending us this clue, and we ask God to help us change our thoughts.
Take a breath, calm down, and say a prayer. When you are…
Angry? Ask God for a stronger thought of Peace.
Impatience? Ask God for a stronger thought of Patience.
Jealousy? Ask God for a stronger thought of Sharing.
Selfish? Ask God for a stronger thought of Sharing.
Sad? Ask God for a stronger thought of Joyfulness
Mad at someone? Ask God for a stronger thought of Forgiveness
CLEAN SPIRIT (heart)
How do we keep our hearts pure?
Prayers
Practice virtues
Do kindly deeds
Be of service
Prayer: He is God! O God, my God! Bestow upon me a pure heart, like unto a pearl.–Abdu'l-Baha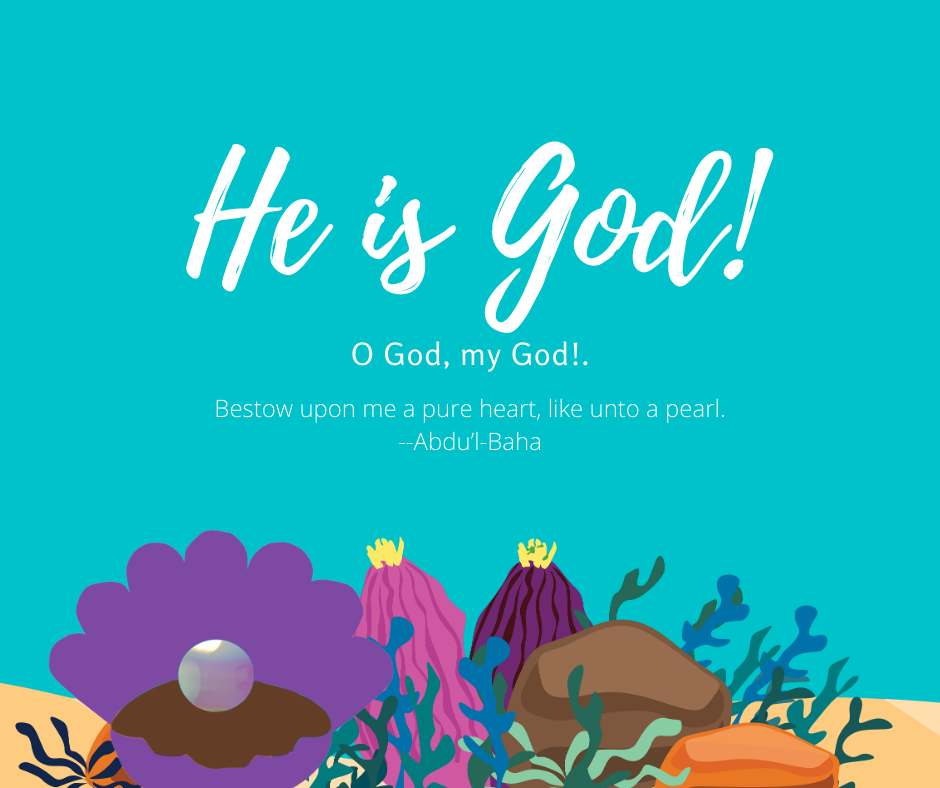 The prayer and memorization aids like the flashcards below can be downloaded from the FREE course content online along with many more resources for Kindergarten and Grade 1 to Grade 4.
I AM A CLEAN KID
I'm a clean kid. I keep my life in order. I'm a clean kid. I wash my face everyday. I'm a clean kid. I do my share to keep our house in order. I'm a clean kid, from Sunday to Saturday!

(Jennifer Russell, The Virtues Songs CD)
Bath Song – Splish Splash | Kidz Area Nursery Rhymes
Brush to the Beat | Music Video | Learn to Brush Your Teeth | Mickey Mornings | Disney Junior
SHORT LIST OF SONGS ABOUT CLEANLINESS
1. (CD: Little People: Bath Time Singalong by Fisher-Price)
Splish Splash
Rubber Ducky
Beautiful Bath
Scrubba Dubba
Rub-a-Dub-Dub
I Gotta be Clean
Brush Your Teeth
Be ye the very essence of cleanliness amongst mankind.

-Baha'u'llah
SUGGESTIONS
To help in memorizing the quote, have the children listen to the quote as much as possible.
Visuals also help in memorizing and be downloaded on the class platform for free.
Try the following: layout the following in a row, on a table have the children go along the table examining each word and picture.
Be – Picture of a bee
YE – picture to a human or a finger pointing to the child
The very essence – a small container with the vanilla essence
Of cleanliness – a picture of a very clean room or person or a picture of a soap bar
amongst mankind – picture of the crowd
Baha'u'llah – just written out
Look at the video with the meaning of the word in the quote.
There are many games to play, here you will find more:
IDEAS FOR GAMES
Let The kids wash dishes or pretend to wash dished
The ROBOT Clean-Up Game. This was taken from the site Momtastic where there are many more ideas
By creating directions based on simple computer codes (walk forward, bend down, turn left, drop toy), your child will not only have fun being a robot, but she'll also end up cleaning her room; plus, she'll learn some programming along the way, too. The kids LOVED this activity!
STORY 1
STORY 2
THE MAGIC MIRROR– listen online
STORY 3
Activity: Cleanliness and Germs
Supplies:
Black Peppercorns
Small bowl with Water
Dawn Soap in a small plate
Experiment
The pepper will act as "GERMS"
The water will act as the surface of your "HAND"
The soap is when you wash your hands
STEPS
Grind pepper into bowl of water.
Stick your finger in, notice that the pepper will stick to your finger.
Dip your finger into soap and put it again into the bowl with water and pepper
the "germs" move away and none sticks to your finger.