I am always on the look out for an easy craft that kids can help with. I like crafts that kids, can do that are not just paper plates, tissue paper etc. Those types of crafts are nice but sometimes I want an extra wow factor. This year I was looking for a Naw-Rúz gift.
For those who have never heard of Naw-Rúz it is the Baha'i New Year, which falls in March, sometimes it is on the 20th and sometimes on the 21st. Many other people around the world celebrate this time of year also.
This year Naw-Rúz on the 21st March and it marks the Vernal Equinox in the Earth's Northern Hemisphere and the Autumnal Equinox in the South—that day when the sun's light strikes the Equator directly and illuminates every continent equally.
Shopping for Naw-Rúz is like shopping for any major holiday where gifts are exchanges. The shopping experience can be frustrating, fun, overwhelming, happy, sad… you name the emotion we most likely experience it. Like everyone during a festive season, we went looking for the perfect gifts. Although we did get great gifts, it felt like they did not reflect the holiday in a special way. For those of you with young kids, well I think online shopping looks very appealing right now and you are thinking there is no time to make anything personalized. Well read on and I promise this is a 10 minute easy mini craft for you and the kids.
My 6 easy steps to making a personalized pendant
So, here is what I decided to do in a few really easy DIY steps that even if you have newborn triples it will be finished in under 10 minutes, I promise (not including the purchase of course!) .
It took me less than 10 minutes to do 6!
Step One
I went to Michaels and found theses very cute pendants: 2 in a pack for about $14. The pendants are in the jewlery making section and I am sure any craft store will have something that you can use that is similar. Michaels always has a coupon so make sure and use it. This time it was 40% off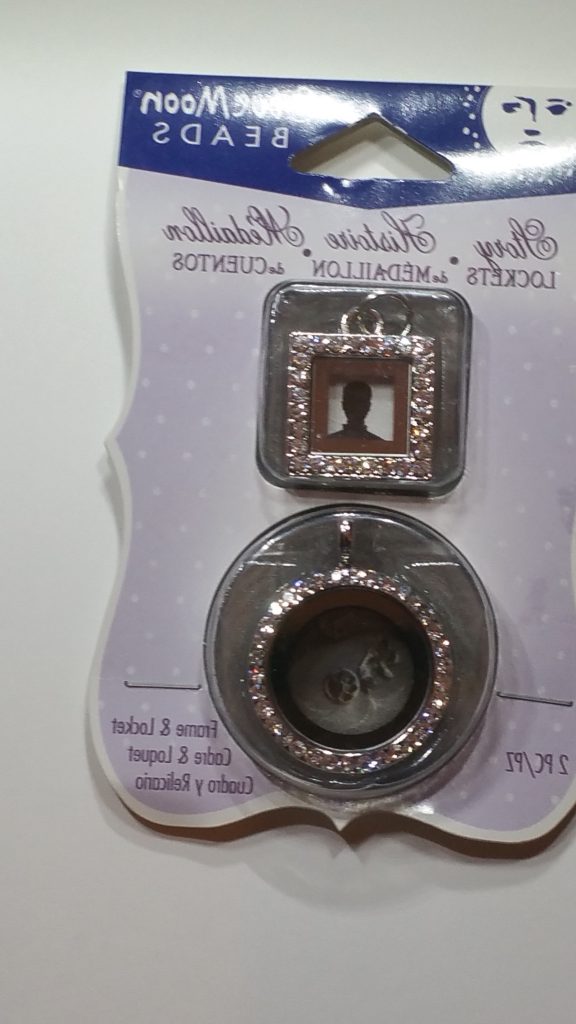 Step 2
Next I printed a photo of 'Abdu'l-Bahá the Son of the Baha'i Faiths founder Baha'u'llah) and printed it on white regular cardstock. You can of course use any photo or symbol.
I choose the photo and not just crystals or little heart charms because I remembered my two friends discussing the best gift they received as children. I am sure the gifts my friends discussed was not a photo in a costume jewelry pendant like mine, but they loved this gift from their mum! I think it was because it was so small and wearable and different from the other gifts they had received.
The photos of Abdu'l-Baha needed to be small enough to fit the frames.
If you buy the same frames, the size for the square frame is 2/8 inch and the round is 3/8th diameter.
Here is a link to my file for you to download and print. Or you can find a photo you like better by searching Google make sure that the usage rights allow for reuse.
Step 3
I cut the photos by hand. There is no need to be exact as they are so small little imperfections really do not show.
TIP: for cutting anything round, move the paper not the scissors, it is much easier that way.
Step 5
The next step is to remove the little mockup photo that came with the frame. I used this weeding hook I had with a piece of sticky tape, this grabs the insert really easily and pulls it out. You can also use a straight pin to push the photo out from the bottom of the frame
Step 6
The final step, put the images into the pendant. The square image inserts on the top. The round pendant opens on the side with a magnetic closure. The round pendant is also glass on two sides so the back of the photo shows. I decided to put a Baha'i symbol so the pendant can be worn either way. I have included it in my file for download. Cut the photo of `Abdu'l-Bahá and The Greatest Name and stick back to back then insert into the round frame
Round Pendant without a photo

Round Pendant with photo

close up of Round Pendant with photo

square pendant with photo
You are done!
You can stop here. What do you think? pretty easy DIY project right? I think it turned out beautiful.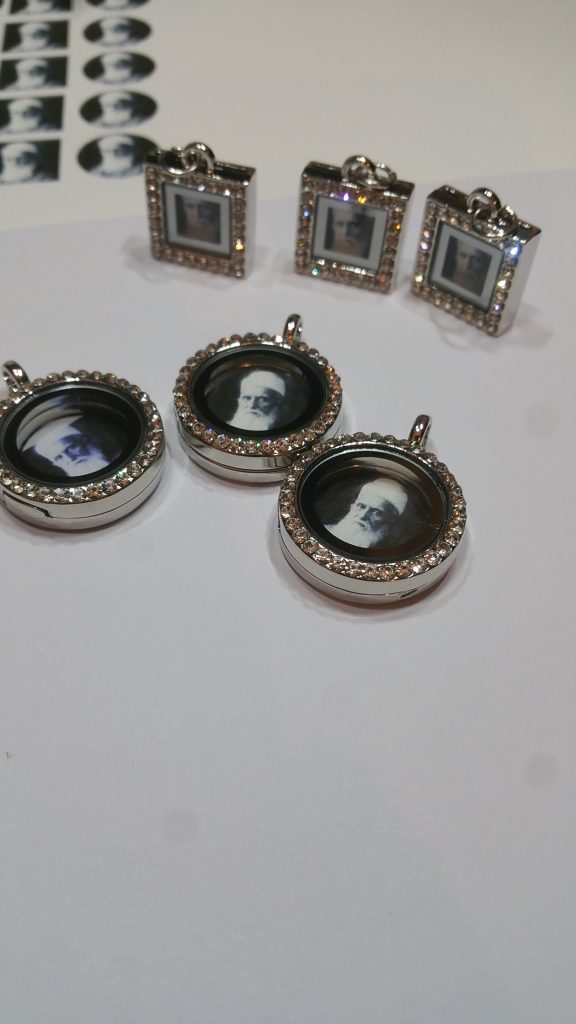 I went and did a few extra steps.
Optional
I have some blank little bags that I will put the pendant in and so I will decorate them.
You can find little bags in the dollar store if you want to venture out or use my little rectangle box template: It should take about 5 to 10 minutes to print, cut and glue it together.
I have a few heart shaped boxes in red that I painted white with dollar store craft paint. I am still deciding if I like this container for this special gift.
If you want a box to put your gift it, here is a link to my square template box with a lid. Decorate it as you like.